If you are thinking about getting a tablet computer for a child or grandchild this holiday season, you do have quite a few choices. Of course, there will always be the debate of whether to just let kids be kids and play with more traditional toys, or whether to offer them a fledgling computer and see how they do with that. These days, it probably makes some sense to at least give the kids a gentle introduction to the world of tablets or computers, even though the systems for early learners can be expensive over time as you purchase additional software for the devices.
The two broad categories considered here are purely kid-centric tablet type devices, or actual Android-based tablets that kids and adults might use.
VTech, who has long made electronic learning devices for kids, has the InnoTab2s with a 5-inch screen, WiFi connectivity and cartridge-based software packages - in a sense, it's a tablet-like educational videogame device. Intended for ages 3-9 years old.
[caption id="" align="aligncenter" width="490"]
VTech InnoTab[/caption]
LeapFrog has the LeapPad2, another device with a 5-inch screen and the capability of using a stylus or the touch screen. It also has a camera and software in cartridge or downloadable form. Intended for 3-9 years olds.
[caption id="" align="aligncenter" width="320"]
LeapPad LeapFrog2[/caption]
Fuhu has the Nabi2 tablet, which is more of a "real" tablet (one that an adult can also use), but somewhat ruggedized and suitable for older kids as well as the pre-K set. The default behavior runs a simplified interface, which can be bypassed to allow "Mommy Mode", which allows more normal tablet operation. It has fairly high hardware specifications and runs a newer version of Android, so it should be able to grow with the older child's needs. Ages 3 - adult.
[caption id="" align="aligncenter" width="500"]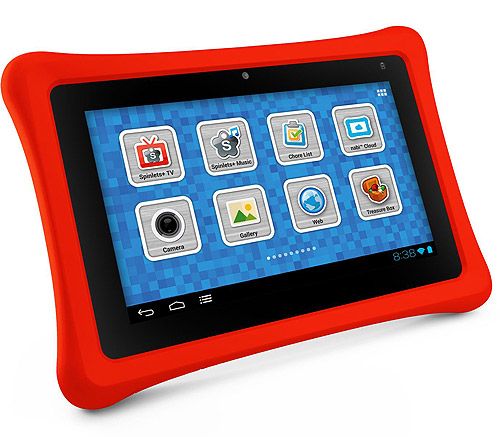 Fuhu - Nabi 2[/caption]